Happy Wednesday! i know i say this every week but i'm so glad there is only two days left for the weekend! i wanted to do a big blog post but i'm tired and just want to read and go to bed..i have been beat this week not sure why, but i'v practically have been falling asleep on my way home from work..so blog post will come tomorrow..
in some Bella news, i will be making some changes to the pictures for the shop..i've realized working full time and being a single mom i have very limited time to work during the week on le shop..it's hard only having the weekend to book models to do big shoots, re-vamping the vintage and preparing them to post in Etsy..it's well over 8 hours a day of work, so i will be using a half and halfer..showing the clothing styled on models (like we do now) and on a dress form..this will take a huuuge weight of my shoulders and will make life easier for me to work within my hectic schedule and not lose time in posting new items.
from the very beginning i always intended to use a dress form and bought one back in 2003 for that purpose..i never did start my shop right away and unfortunately my form got pretty beat up between moves..but i'm excited now to get a professional one not only for the shoots but for my own creations! yay! it gets here Monday and i can't wait to start shooting with it!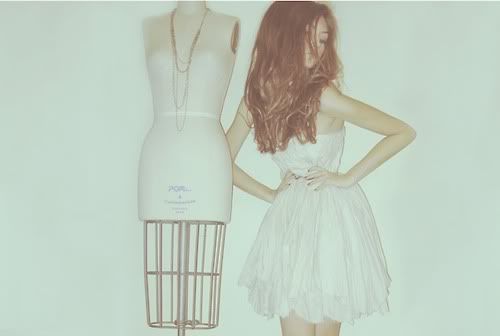 source: we heart it
any opinions on dress forms vs live models..i think both work in my opinion..i feel you get one point of view seeing it on a model styled and the other view is seeing the clean lines of the garments on the dress form best..but input is always welcome!
night night