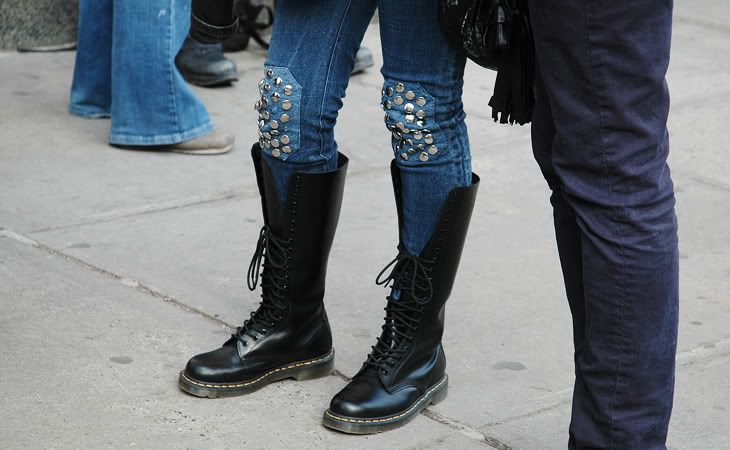 i remember when Doc Martins were sooo popular, i was in high-school and it was 1991. the grunge movement is what made them trendy then but they have been a staple among many for several years prior, (on a side note: they have been around since the 1950's)! most of the rocker, punk or grungy kids wore them in school and i recall one friend of mine who had a purple velvet pair, oh wish i had those now!

i had pleaded and begged my mom for a pair who then was a single parent with a very tight budget, they were $100; she caved in and i was delighted to get them in black. i wore them with everything! my jeans, skirts and baby-doll vintage dresses. i wore them with black and white striped tights or knee highs, i actually owned about every color pair of those tights out there; the combination was very cute especially on a 15 year old girl.

despite all they had been through, punk shows, the beach and just my everyday use they were still in great condition and worn in just right. Doc Martens last forever! i held on to them for many years, i just could not part with them, buuuttttt..about a year ago i was cleaning the closet and did the dreaded thing i tossed them in a bag headed for goodwill and now i'm regretting the decision. thinking of it now i could of handed my original 91 Doc's to my daughter or probably even taken them for a stroll myself...but now some lucky girl has a 5.5 pair Doc's or in the irony of how things go they probably landed in good ol e-Bay!

below is a pair that will soon hit the shop, which with non-stop work at night will launch on Saturday, April 25th!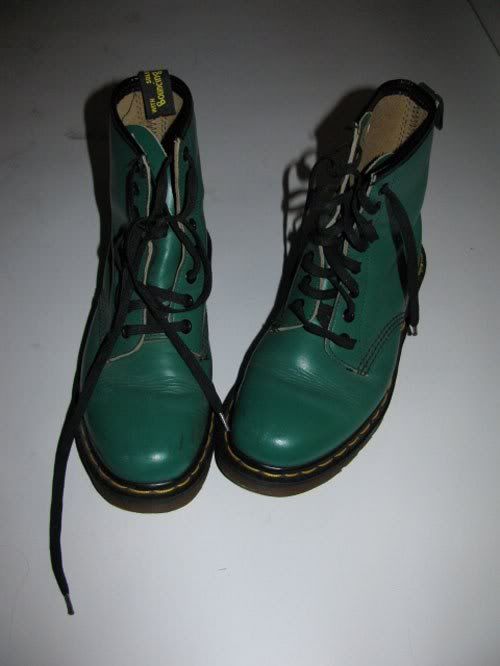 picture above from http://jakandjil.com/blog/